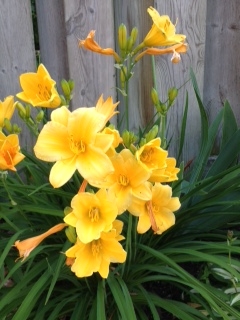 Our summer program begins with Bill Chapman's popular Tuesday night class Meditations for Inner Peace on June 30th and continues throughout July.
The Wednesday daytime class at 10am takes a break on Canada Day July 1st, but continues for three classes on July 8th, 15th and 22nd.
On Thursday night we'll have three sessions on Establishing a Meditation Practice, starting July 2th.
Meditations for World Peace continues until July 19th
We'll have an abbreviated puja schedule with Wishfulfilling Jewel (without tsog) at 7pm on Friday nights in July.
(photo – flowers in Atisha's garden)
Make sure you enjoy the World Peace Garden when you come to one of our events. Take some time to sit and contemplate this summer.
Looking forward to seeing you at one of our events.
-Tom Sepp
Administrative Director
Atisha Buddhist Centre