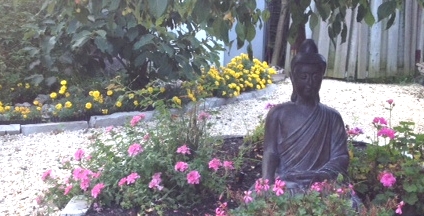 This Fall you'll have an opportunity to make positive changes in your life by participating in our Fall classes, courses and events. You'll learn how meditation is a powerful tool for positive change.
You'll find this practical approach in all our new courses starting after the long weekend:
Foundation Program Open House, Sept. 3rd, 7-9:30pm. Our Foundation Program is a structured, in-depth study and meditation program based on Buddhist classics and commentaries by Geshe Kelsang Gyatso. If you're at all curious about our Foundation Program and would like to try it out, please come to the Open House – everyone is welcome, with no obligation or expectation to continue. For more information…
Teacher Training Program Open House, Sept. 8, 7-9:30pm This program is also an in-depth study of Buddhist classics and commentaries, with added books and teaching skills. Meant for those who might consider teaching. Everyone is welcome to come to the Open House. For more information…
New class by our Resident Teacher, Deborah Corrigan: Controlling Problems by Controlling the Mind, Thursday nights, 7-8:30pm. This course will explore how we can make positive changes in our life through the various forms of meditation. Find out more…
Our popular Tuesday night course, Meditation for Relaxation begins again on Sept. 2nd with Bill Chapman, 7-8:30pm. This course is perfect for those looking to explore meditation and its potential. Find out more…
The Wednesday Daytime class, 10am – 11am, Simply Meditate begins Sept. 3rd for those who prefer a daytime meditation class. Find out more…
Our Sunday Meditations for World Peace begins on Sept. 7th. Always no charge for this class. For more info…
Don't forget the Ontario Dharma Celebration at the Kadampa Meditation Centre Canada on Sept. 12th to 14th, with Gen Kelsang Donsang from Montreal. Find out more…
We'll have a complete puja schedule for the Fall on our calendar shortly, along with some Saturday workshops and a Fall retreat! We'll also have our branch class schedule available soon.
Please don't hesitate to contact us if you have any questions about the Fall schedule or courses.
Looking forward to seeing everyone again soon,
Tom Sepp
Administrative Director
Atisha Buddhist Centre
tom.sepp@gmail.com
416 504 7407