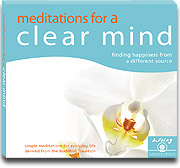 For three weeks in July, our Thursday night class will introduce meditations to calm the mind. At each class you'll get an opportunity to try meditation and explore its application to our daily lives.
We'll be practising meditations on clarity, the fundamental nature of the mind.
Benefits of practising this meditation include:
*reducing your distractions
*improving your concentration
*creating insight into the nature of reality
*creating a peaceful and blissful mind
You'll also meet new friends, and return home calm and refreshed.
There will also be a one-day follow up retreat on Saturday, July 21st, 9am to 1pm at Atisha Buddhist Centre, Mind and Meditation.
A meditation CD "Meditations for a Clear Mind" is also available for home practice.
The class is suitable for both beginners and experienced meditators alike. Everyone welcome to join anytime.
Instructor: Tom Sepp, Resident Teacher, Atisha Buddhist Centre
Place: Atisha Buddhist Centre, 1823 Gerrard Street East, Toronto, ON M4L 2B5
Time: July 5, 12, and 19th 2018, 7pm to 8:30pm,
Cost: $10 per class, pay as you go. No registration required.