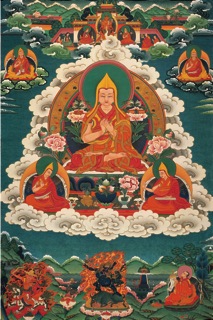 Introduction to Heart Jewel Prayers and Lamrim: The Essential Practice of Kadampa Buddhism
The Heart Jewel practice is the heart essence of Kadampa Buddhism. In the first part of this practice we visualize Je Tsongkhapa and make prayers and requests to purify negativity and accumulate merit. This prepares our mind for a period of silent meditation on the Lamrim, or stages of the path. We then engage in the Guru Yoga of Je Tsongkhapa. The second part of the practice involves prayers and requests to the Dharma Protector Dorje Shugden.
Come to this free workshop to discover Buddhist meditations which will transform your mind, adding to the breathing meditations you may have already been practising.
Everyone welcome. No registration required.
Instructor: Deborah Corrigan, Resident Teacher at Atisha Buddhist Centre
Place: Atisha Buddhist Centre, 1823 Gerrard Street East, Toronto
Time: 10am to 1pm
Cost: By donation