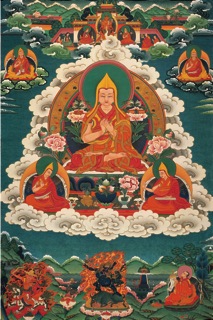 Heart Jewel puja is the essential practice at Kadampa Buddhist Centres around the world. The chanted meditation or puja combines the Guru yoga of Je Tsongkhapa with the condensed sadhana of his Dharma Protector. Each puja also includes a Lamrim or Stages of the Path meditation.
These two practices are the very essence of the New Kadampa Tradition of Mahayana Buddhism. If we practice them regularly and sincerely, we will reap a rich harvest of pure Dharma realizations, and eventually come to experience the supreme joy of full enlightenment.
An extensive explanation of this sadhana can be found in the book Heart Jewel, by Geshe Kelsang Gyatso.
Everyone welcome to attend.