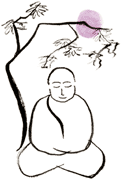 Meant for anyone interested in meditation, you'll practice a simple and easy-to-learn breathing meditation which will calm your mind and help you deal with the frustrations and difficulties of our daily lives.
Meditation will help you:
calm your mind
improve your ability to deal with difficult situations
help improve your relationships
Come explore meditation in an relaxed and comfortable environment.
Meditation CDs are available for home practice.
Instructor: Tom Sepp, Resident Teacher
Place: Atisha Buddhist Centre, 1823 Gerrard Street East, Toronto, ON M4L 2B5
Time: 8:00am to 8:30am
Cost: $5 per session, no registration required, attend as many sessions as you wish
Everyone welcome – bring your friends!