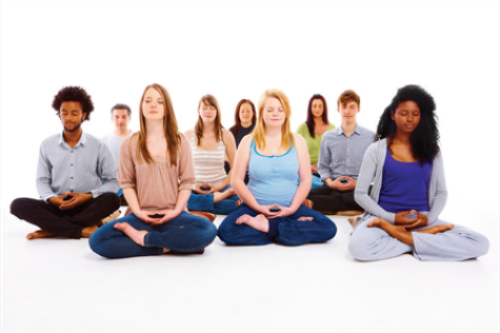 Calm your mind through meditation
Meditation is a simple yet profound method to improve the quality of our lives and develop inner peace. Through following very simple, practical instructions we can learn to let go of the causes of our pain and dissatisfaction and to gain the inner peace and clarity we seek.
Our introductory meditation classes are for everyone who is interested in learning how to meditate, regardless of background or beliefs. They are designed to give a broad introduction to Buddhist meditation, teachings and practice.
This course will explore, in depth, how concentration on the breath combined with a short mantra is a powerful way to calm the mind, and provides many other benefits.
What will I gain from these classes?
The classes will allow you to unwind your mind and return home relaxed and refreshed. They will provide you with new tools for dealing with stress, anxiety and problems.
This three-week course at Atisha Buddhist Centre will enable you to:
*Calm your mind by meditation
*Explore the potential of meditation to transform your mind
*Create a more positive and healthy view of yourself
*Discover how to realize your highest potential
Everyone welcome beginners and experienced meditators alike. A link to a guided meditation online for home practice included with the cost of the course.
The course also includes a one-day retreat at Atisha Buddhist Centre on Sunday Jan. 29th, free of charge for registrants in this course.
We're offering daytime and evening classes.
Cost The course fee for three sessions is $30 with advance registration. The course fee includes a link to an online meditation for home practise and a retreat (4 sessions – $20 value) on Jan. 29th at Atisha Buddhist Centre, at no charge to registrants.
The daytime class (10am to 11am) will be given by Buddhist nun Kelsang Garma, register here (click here)
The evening class (7pm to 8pm) will be given by Resident Teacher Tom Sepp, register here (click here)
Location: Atisha Buddhist Centre, 1823 Gerrard Street East, Toronto, M4L 2B5
For more information or questions Please email atisha.epc@gmail.com or phone 416-694-5300