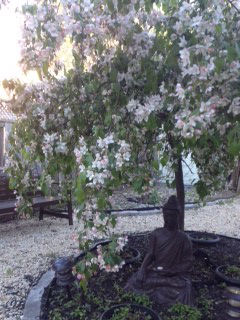 Begin summer with a day of meditation and Dharma Sunday June 25th. You can begin the day with a calm Meditation for World Peace at 10am followed by vegetarian snacks.
At 12:30 you can join us for Offering to the Spiritual Guide puja with traditional chanted meditations. You can bring vegetarian potluck food offerings and enjoy this powerful 2 hour puja which is held on the 25th of every month.
Later in the afternoon at 3pm, we'll have an informal Garden Party in our beautiful World Peace Garden, enjoying veggie burgers, roasted vegetables and tsog offerings from the puja. We'll inaugurate our new BBQ which has been generously donated to Atisha Centre.
Everyone is welcome to come to any one of the events this Sunday, even if you come just for the Garden Party at 3pm. It would be wonderful to see everyone there. The Garden Party is a thank you to all of the members of our community who have all contributed in their own way to a successful year.
See you this Sunday, rain or shine!
Tom Sepp
Resident Teacher
Atisha Buddhist Centre
www.meditateinthebeaches.org
tom.sepp@gmail.com
416 504 7407