Tom Sepp – Resident Teacher



Tom Sepp is the Resident Teacher at Atisha Buddhist Centre. A Dharma enthusiast, Tom has been studying meditation and Buddhism as a student of Geshe Kelsang Gyatso Rinpoche for 24 years. He is happy to share his experience and considers it a priviledge to teach the Thursday night Introduction to Meditation class course, the Wednesday Foundation Program classes, along with the Sunday Meditations for World Peace.
Kelsang Garma – General Program Teacher



Kelsang Garma is a Buddhist nun who has been studying Buddhism and practising meditation for over 10 years. Inspired by the wisdom and clarity of Buddha's teachings, she integrates the teachings and meditations with daily life. She is known for her calm and sincere presentation of Dharma. Kelsang Garma teaches the Wednesday morning Simply Meditate classes.
Ralph Santer – General Program Teacher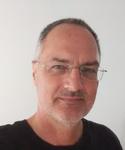 Ralph is a popular and sincere teacher of meditation and Buddhism. As a longtime student of the Foundation Program at Atisha Buddhist Centre, he appreciates the value of meditation and its application to our daily problems and activities. Ralph teaches the Tuesday night class Meditations for Inner Peace and Happiness.`