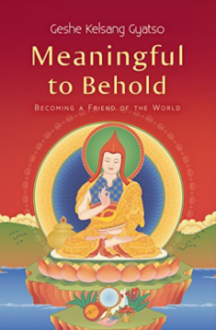 The Foundation Program at Atisha Buddhist Centre provides a systematic presentation of particular subjects of Mahayana Buddhism to enable practitioners to deepen their knowledge and experience of Buddhism. The Program comprises of five subjects based on Buddha's Sutra teachings and the corresponding commentaries by Geshe Kelsang Gyatso.
On Feb. 5th, we'll begin a new book, Meaningful to Behold, Geshe Kelsang Gyatso's commentary to the classic Buddhist poem Bodhisattva's Way of Life by Shantideva.
Each week, you'd study a small section of the book, internalize the main points and outline, come prepared to meditate on a key part of the reading, and receive the transmission of the text. You'll have an opportunity to work in pairs, ask questions and discuss the material. We also have a break, with time for tea and snacks.
You'll get a deeper understanding of this Buddhist classic and find practical strategies to incorporate into your daily activities.
Even if you're just curious, you're welcome to attend the open house/first class and find out more about the Foundation Program and how it works, with no obligation to continue with the program. Everyone welcome to attend.
Instructor: Tom Sepp, Atisha Buddhist Centre
Place: Atisha Buddhist Centre, 1823 Gerrard Street East, Toronto, ON M4L 2B5
Time: 7pm to 9:30pm
Cost: No charge for the open house, nor until you decide to enrol in the program. No one is prevented from participating in the program because of lack of funds. Cost is $75/month due monthly throughout the year. $90/month if you'd like to make 10 payments in a year.
Meaningful to Behold
Feb. 5 instruction p 1 – top of 5
Feb. 12 p 5 – 10
Feb. 19 p 11 – top of 17
Feb. 26 discussion p 1 – 17
Mar. 4 p 17 – 21
Mar. 11 22 – bottom of 26
Mar. 18 bottom of p 26 – middle of 31
Mar. 25 OSG
Apr. 1 discussion p 17 – 31
Apr. 8 middle of p 31 – middle of 35
Apr. 15 middle of p 35 – top of 40
Apr. 22 top of 40 – middle of 44
Apr. 29 discussion p 31 – 44
May 6 middle of p 44 – middle of 48
May 13 middle of p 48 – middle of 52
May 20 middle of 52 – end of chapter
May 22-27 International Spring Festival 2020
May 27 discussion p 44 – 58
June 3 exam review
June 10 OSG & Exam
*Feb. 5 Open House and start of new book Meaningful to Behold commentary to Guide to the Bodhisattva's Way of Life by the great Buddhist master Shantideva.